10 Must-Try Tips for Every Spring Cleaner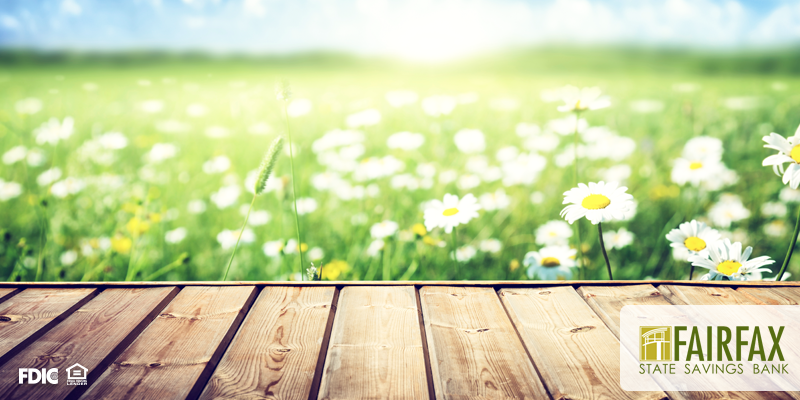 You've decluttered your closets, rearranged the furniture, and thrown open the windows, and yet – you know your spring cleaning can go even deeper. With just a couple of simple tools you already have around your house, you can take your cleaning to the next level. Get your spring cleaning on with these easy hacks courtesy of Fairfax State Savings Bank.
Dust blinds in a jiffy. To remove a winter's build-up of dust and grime that's settled on horizontal blinds, roll an old tube sock over your hand and spray it with a blast of vinegar before running it over the surface.
Get streak-free windows. Clean smudged windows inside and out with an even mixture of vinegar, water, and dish soap. After scrubbing with a soft cloth, buff and remove streaks in a final once-over with a wadded piece of newspaper.
Banish hard water build-up. To prevent unsightly water streaks on glass shower doors, rub a teaspoon of lemon oil over the surface twice a month and watch drops roll right off.
Remove scratches naturally. To repair dinged or scratched wooden furniture, remove a walnut from its shell and rub it along the scratch. After rubbing the nut's oils into the wood with your finger, let it sit for five minutes and buff it over with a soft cloth.
De-gunk kitchen cabinets. Remove oil splatters and grime accumulation on kitchen cabinets with a simple scrub of one part vegetable oil to two parts baking soda. Scrub with an old tooth brush to reach extra-fine lines that make cabinetry look dark and dull.
Sterilize Toys. By throwing fabric toys in a mesh laundry bag, you can disinfect and shine armfuls of plush toys in just one spin through the washing machine. Try this same trick in your dishwasher with those tough plastic toys!
Remove pet hair. Grossed out by pet hair in the carpet the vacuum can't seem to pick up? Run a window squeegee over your carpet by hand – the rubberized edge will pull up and collect hair in one easy-to-grab clump.
Revamp your garbage disposal. Fill an ice cube tray with a mixture that's eight parts water and one part vinegar, and drop a sliver of lemon rind in each slot. Drop a few frozen cubes down the drain to clean, deodorize, and sharpen your garbage disposal in one fell swoop.
Rid grout of scum. With ¾ cup of baking soda and ¼ cup bleach, create a paste that you can apply between mildewed tile on showers and oven backsplashes. After 10 minutes, gently scrub off with a toothbrush and a damp rag to reveal clean and clear grout.
Sanitize everything. From windows to tubs, hit areas in need of deep disinfectant easily by screwing a spray bottle head onto a bottle of hydrogen peroxide for an instant, even spray. Hydrogen peroxide is the perfect remedy to get tough stains out.
Is your spending plan in need of some spring cleaning? Our financial experts can help you clean up your expenses and make the most of your budget. Give us a call at (319) 846-2300 and learn how today!