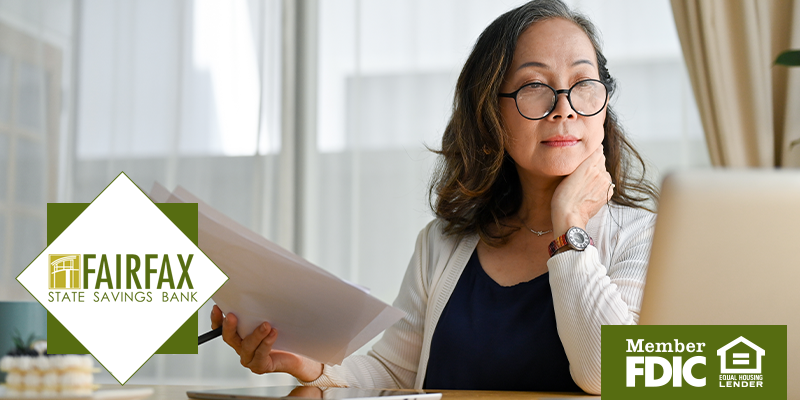 Have you already started retirement planning? Utilizing an Individual Retirement Account (IRA) can be very helpful when starting to plan for retirement. In today's blog, we will share information with you about what an IRA is, the benefits of using an IRA, and when is the best time to start planning!
What Is an IRA?
An Individual Retirement Account (IRA) is one of the most efficient ways to save and plan for retirement. An IRA allows you to save money for retirement in a tax-advantaged way, either tax-deferred or tax-free.
Types of IRA Accounts
There are many different types of IRAs available, a few of the most common ones include:
Traditional IRA: Money can be grown on tax-deferred
Roth IRA: Money can grow tax-free
Rollover IRA: Money is rolled over from a qualified retirement plan
If you are not sure which IRA option is best for you, Fairfax State Savings Bank can help with that! Connect with our team to get started today!
Benefits of an IRA
IRAs are a great option for several different reasons, one of them being that they are easy to set up. There are no age limitations when it comes to IRAs and contributions can be made easier if you make taxable income. Choosing to utilize an IRA is also one of the best ways to accumulate your retirement savings, because of the tax advantages that IRAs offer. Because there are many types of IRA plans, you are in control of your contributions and there are many options available so you can choose one that fits your needs best.
If you have been wondering when the best time to start retirement planning is, the answer is now! It is truly never too early to start planning for your retirement. Ideally, planning would start anytime within your 20s, but it is okay if you haven't started yet. Our team can help you get started, reach out to our team, or visit our website today to learn more about our IRA options!