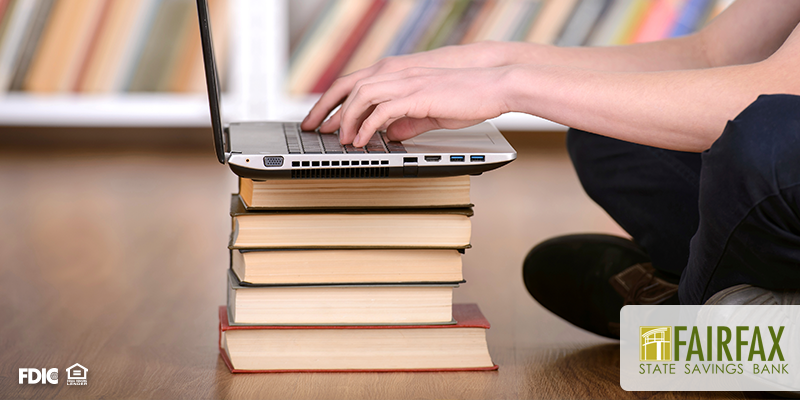 With delicacies such as ramen, easy mac, and PB&J, college doesn't always seem as glamorous as it is in the movies. Learn how to build up your bank account this year with these helpful savings tips courtesy of Fairfax State Savings Bank! We'll show you how to make the most of your dining dollars, classroom supplies, and other on campus opportunities!
Books. Instead of purchasing those $300+ textbooks, utilize your university's library and study using the same materials without any of the cost!
Coffee. Get the best bang for your buck when you go for your next caffeine fix. Many coffee shops offer free wifi for studying in addition to free refills on basics coffee and teas. Simply purchase the size of your choosing, and stick around for a proper study session complete with all the coffee you need!
Meal Plans. Dining dollars aren't just for dinner. Utilize those additional funds to purchase other necessities such as toiletries to ensure you never leave any allocated dollars unused.
Student Activities. Keep tabs on school events. With many university sponsored events offering free food or drinks, students tend to jump at the opportunity, so it's best to arrive early!
Scholarships. You never know until you try, or in this case submit, but in many cases writing a simple essay and answering some questions is all you need to do to be considered for a $500+ scholarship.
Student Discounts. They're everywhere; whether you're on campus, or out and about, always be sure to carry your student ID to save a little extra money at various retailers.
Loan Interest. Start paying off your student loans ASAP. Compounding interest especially can rack up additional expenses quickly, so be sure to begin paying down your debt as soon as you can.
Cars. Ride your bike around campus instead of paying for costly gas, auto maintenance, and parking passes. During the winter months, you can skip waiting in the cold for the parking lot shuttle, and warm up as you cycle home!
Recycle. Those pop cans and soda bottles can be valuable. It may not seem like a lot of money at first, but over time you'll find yourself saving more and more.
Work. Get a part-time job during the school year that offers great benefits like free gym membership, discounted meals, or free drinks!
Whether you're a first year, or a PhD student, there are countless ways to save some green throughout your college years. Let us help you tuck away some of those valuable dollars with a structured savings account at Fairfax State Savings Bank!