7 Absolutely FREE Activities for the Kids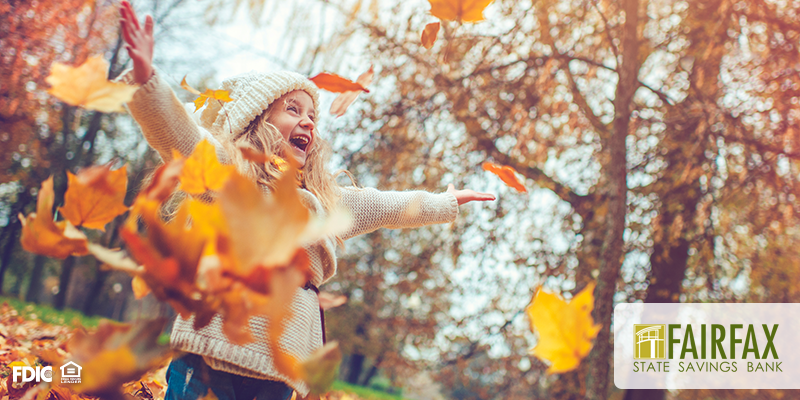 Whether it's during the summer or after school, keeping your children occupied takes a truly creative mind! This season, Fairfax State Savings Bank is excited to share some of our favorite and affordable activities for all of your little ones to enjoy!
Take advantage of your local library and their summer and afterschool programs. Even if it's only an hour a day, this simple strategy can keep your child learning while they play, saving you some green along the way. To bring that fun home, register your child for a library card, and show them how to check out books and take them back. ! Extra tip: If you make a game out of reading, such as who can finish a new book first, you may even instill a passion in them for reading and learning.
Setup camp in your backyard, tent and all. There's nothing like the great outdoors, except when the indoors are just steps away! Ease your little one's into the wilderness by creating a camp in your own backyard. You can complete the evening with a s'more roast, campfire stories, and stargazing to make the most of the nighttime.
Bike around town, and enjoy a pit stop at the park. Set a route for a bike ride, and see if you can end at a park close to your home. The bike ride can allow your kids to explore the town, and burn some extra energy before winding down with some playtime outdoors.
Head out for a swim at your local state park and enjoy the cool water or beach. Every state has some unique local parks, many with their own watering hole! Instead of paying the fee to visit your local pool, consider making a day trip to enjoy the warm sand and cool waters of your nearby rivers or lakes. For extra savings, pack a lunch and cooler to make the most of your day without having to spend a dime on admission or food.
Create a fun scavenger hunt around your home or neighborhood. A scavenger hunt can be as simple or as complex as you make it. For some of the younger kids, it may be beneficial to keep it around your home. However, if you have pre-teens to keep occupied, creating a neighborhood or town-wide scavenger hunt could be the perfect afternoon activity. Setting up the scavenger hunt ahead of time, will help you plan your route, and determine the best prize for those who finish it.
Bring some grub, and have a picnic at the park. You can do this fun-filled activity for lunch, dinner, or both! Pack a bag or cooler with some great bites to eat, and find a table or bench at your nearby park. The kids can run and play for a bit, and then come enjoy a delicious homemade meal before diving back in for round two. If you want to really make this activity sweet, pack some of these individual cherry pies for dessert!
Volunteer for local organizations and give back to your community. Keeping busy isn't always about entertaining your children or yourself. Sometimes, it can be about something greater, like helping others. Organizations such as The Salvation Army, your local Food Bank, and the county Humane Society, are always looking for helping hands to assist in their day-to-day activities. Let your little ones choose which one they want to be a part of, and see if volunteering once or several times a week can fit into their schedule!
We love getting children involved in personal finance at an early age. If you're searching for more affordable activities for your little one to enjoy, consider some of these fun-filled games to help them understand the basics of personal finance! Everything from mobile apps to hands-on activities can help them grow their own financial education.