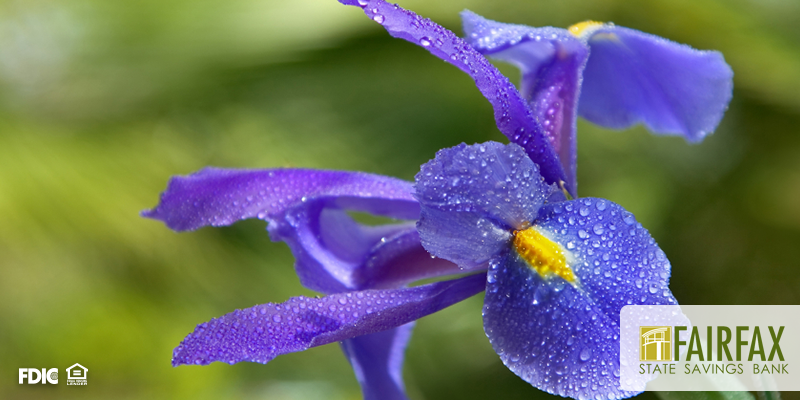 Gardening season is upon us! Whether you've been gardening for decades or are flexing your green thumbs for the first time, save some green as you grow it this spring with these helpful tips from Fairfax State Savings Bank:
Study the sun. You can burn hundreds of dollars by accidentally placing plants in areas that receive too much or too little sunlight. Take time before planting to make notes on the sun's path across your yard, scoping out key sunny and shady spots along the way.
Invest in mulch. A layer of fresh mulch aids in protecting against soil erosion while cutting the costs of weed killer.
Reuse newspapers. Before you lay down protective mulch, spread layers of old newspapers directly onto the soil to block weeds and lock in moisture. Eventually the newspaper decomposes while saving on water costs in the long-run.
Try natural bug protection. Instead of buying pricey pesticides and bug zappers, place fabric softener sheets next to outdoor light fixtures to deter flying insects.
Make your own weed killer. Eco-friendly and inexpensive, you can create your own weed killer by mixing 1 gallon of white vinegar with 1 ounce of liquid dish soap. Put this mixture in a spray bottle and directly apply to weeds for the maximum effect.
Start composting. Create nature's best fertilizer in your own backyard by forming a small compost pile of kitchen and yard waste. Not only do you reduce your footprint by saving space in a landfill, but your homemade compost saves you money and increases the yield of your plants.
Plant the pricier edibles. To save money, time, and precious garden real estate, invest in planting herbs and vegetables that would normally cost you a bundle at the grocery store. Grow pricier crops such as raspberries, shallots, and basil yourself and buy cheaper produce like lettuce, carrots, and parsley at your local farmers markets.
At Fairfax State Savings Bank, it's always growing season when it comes to building your wealth. If you're looking to prosper you financial gains stop by and give us a call at 319-846-2300 today!