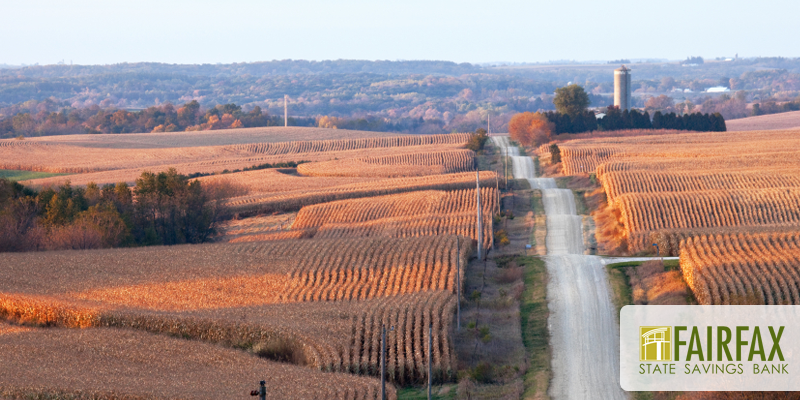 Planting season is just around the corner! With warmer weather laying the foundation for a sound growing season, be sure your ag operation is geared up and ready to go! Fairfax State Savings Bank offers knowledgeable industry insight to help our customers find financial solutions for all sizes.
AGRIBUSINESS – In continuing to help build and support our local economy, agricultural lending naturally became one of our areas of expertise. With flexible solutions for all types of ag operations, we can find the perfect financial plan for your agribusiness.
Deposit Accounts: Take advantage of our trusted deposit options with our flexible deposit account options!
Seasonal Operating Lines of Credit: Revolving or non-revolving credit lines to suit your individual needs. These funds are used for the production of crops and the credit is based upon your growing season and business needs.
Livestock & Equipment Loans: Used for practically any purchase on your farm or agribusiness. Typically a secured lending, this loan option can be based around your cash flow, and can range up to 60 months.
Ag Real Estate Loans: Acquire or refinance farmland with a balloon loan ranging from 36 to 84 months.
COMMERCIAL – If you own your own business, than you are a master of wearing a number of hats! Let us help take one of those numerous tasks off your hands with our simple and affordable commercial financing options.
Deposit Accounts: Offering checking, savings, Money Market, and CD accounts, no matter your size or industry Fairfax State Savings Bank has the solution for you.
Commercial Loans: Investing in our community is something we take great pride in. Our experience commercial lenders can help you discover the perfect financial plan for you and your business.
Merchant Services: Having the capability to offer your customer various payment options is crucial in the success of your business! Fairfax State Savings Bank offers a wide range of services specifically for our commercial customers.
Retirement Accounts: An attractive retirement savings not only helps your current employees but also adds an added value for potential new employees. See how adding a retirement plan to your benefits could impact your business.
At Fairfax State Savings Bank we pride ourselves on building our communities! If you're looking to grow or expand your current business, we want to help! Stop by the bank at 409 Vanderbilt Street in downtown Fairfax and see how we can help you!