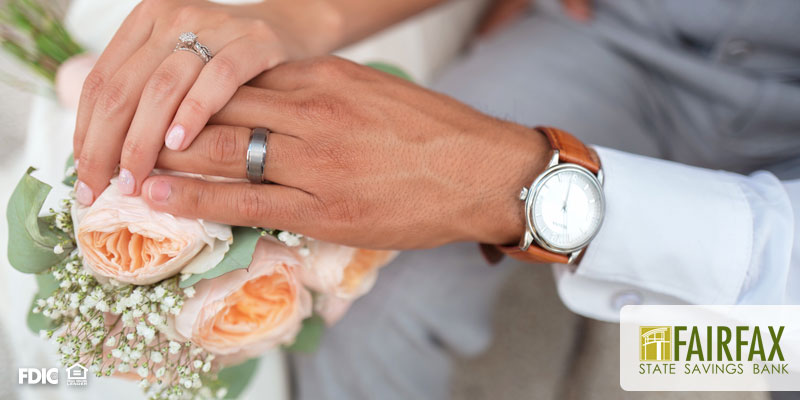 After the question has been popped, answered, and celebrated, it's time to get into planning mode! Coordinating everything from table seating, gift registries, food, and more; putting together an exciting wedding celebration is no easy task! Find out how to get the most out of your big day, with these helpful budgeting tips courtesy of Fairfax State Savings Bank.
1. Have the Money Talk with Your Family
One of the great parts about a wedding is the fact that it symbolizes two people, and two families, joining together. Likeminded, your budget should be a joint effort as well. Sit down with your parents, spouse, and his/her parents to discuss what can be contributed by each family. Once you have decided on a reasonable budget you can begin to look into appropriate venues and vendor options.
Be sure to also ask relatives with talents to help with various wedding activities. Whether its photography, floral arrangements, or singing during the ceremony, you'd be surprised how many talented family members are more than happy to help!
2. Pick Three
The golden rule to budgeting the perfect wedding is to choose your top three priorities. Whether that's the food, venue, photographer, or other wedding elements, choose which components you want to put the bulk of your budget in. This doesn't mean you can't spend money outside of your three choices, rather this budget allows you the freedom to save money in the areas that aren't your main focus.
In most weddings the top three expenses are the venue, dining, and entertainment, followed closely by the photographer, floral arrangements, and wedding dress.
3. Staying Under Budget
Like any good budget, staying on top of your numbers can be a huge advantage! Be sure to keep all your receipts associated with the event to help track expenses and create a paper trail with your various vendors. Just like your personal finances, it's a good idea to leave some cushion for unexpected costs and additions. Whatever your overall budget is for the event, be sure to leave 5 percent of it unused for various unplanned changes. This way if extra flowers or drinks are needed, the money is already set aside, headache free!
Many couples are opting to use apps like HoneyFund to take the expense of a honeymoon out of their budget. With apps like this relatives and guests are able to choose an item on your honeymoon wish list to give instead of a traditionally wrapped present.
Setting the date is simply the start of your wedding planning adventure! If you need help structuring your wedding budget, stop by Fairfax State Savings Bank or give us a call at (319) 846-2300, we'd love to help make your big day a success!