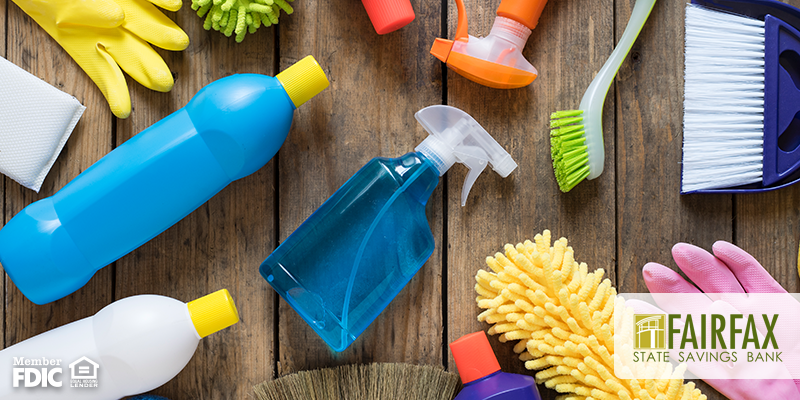 It's finally time! You're getting close to taking a new path in life - but do you know where to begin? Retirement is an ideal time to declutter, as you may be downsizing or moving locations. Fairfax State Savings Bank offers a few ways you can deep clean for retirement, so you aren't left with a mess!
Turn Big Tasks into Smaller Ones
When beginning to downsize to a different home or clean out old tax returns, it is easy to get overwhelmed with the process. Try starting small instead of tackling everything at once. For example, when moving your clothes, start with winter outfits and move on to summer pieces once those clothes have been taken care of. A good rule of thumb is to donate any clothing you haven't worn for a year, only worn once or never wore at all.
Drop the Small Expenses
Say goodbye to magazine subscriptions, cable, memberships, and any other monthly expenses that have been draining your account. If you really like your gym membership or can't live without People magazine, you can keep it - just be sure to cut the costs on another item so you aren't continuing to lose money. Your average cable can cost around $85 - 100 a month, so that is always a safe cost to cut when you have cheaper options such as Netflix and Hulu available.
Shred Old Documents
Go through old tax returns, pay stubs, important documents and any other papers you have been hoarding. Find the ones that you may need to keep and toss the rest. Be sure to shred all documents, as identity theft is on the climb. This will make you feel refreshed and help make your switch into retired life a little easier.
Change your Insurance Coverage
Once retired, you may have different options and benefits you can take. Talk with your bank about new savings options or look at different deals certain companies give retirees. Continue to review plan choices each year to find better pricing options. Insurance can be tricky once you don't have your employer to go through, so be sure to go through all options slowly and ask questions when needed.
We believe these tips are a great way to start off your retirement! Cleaning out the clutter and preparing for this journey will only make the process easier. If you're wondering what the next step is for you financially, feel free to give us a call or stop on in! We'd love to discuss your banking retirement options with you.