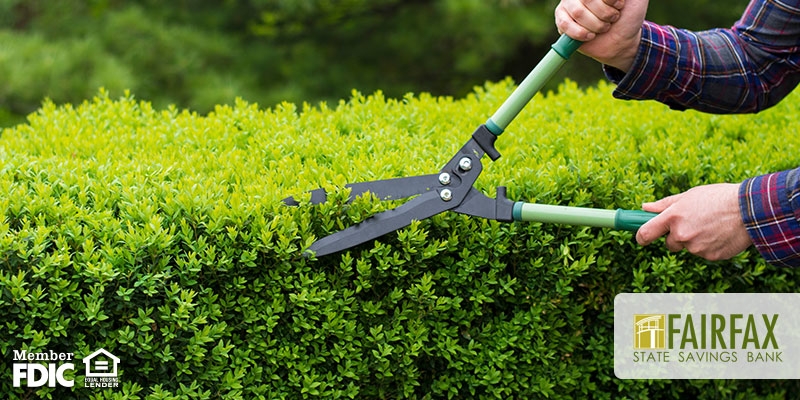 There's always that house in town that makes you stare a little longer. It's either landscaped so beautifully that you can't help but take in their attention to detail or it's so terribly neglected with tacky lawn ornaments you can't help but gawk. We hope that you are the former but if you are looking to spruce up your curb appeal while sticking to a reasonable budget, here's what you can do.
Power Wash Like You Mean It
You may be surprised just how dirty the exterior of your home is until you hit it with a power washer. Check to see if the material on the exterior of your home is safe for the intensity of a power washer. It can clean the mildew, mold and dirt off of brick and siding. It can even dramatically brighten up your driveway and sidewalk.
Paint the Front Door
Make your house pop by painting the front door a bright color. Usually, many people seem to like painting theirs red, blue or black. However, it can of course be whatever color you like! Paint for a door won't put a dent in your pocketbook and can help your home to stand out in a classic way.
Clean Your Gutters
If the outside of your home is not well-maintained, it may impact future resale. If potential buyers see that you aren't conducting routine household maintenance, it might make them wonder what you are neglecting on the inside of your home. Having clean gutters keeps your house looking fresh!
A Touch of Nature
Hiring a professional landscape architect may be outside of your budget right now, but adding some greenery to your home can really make it come alive. Consider adding two potted plants to your entryway or building your own flower boxes for the front exterior windows. This attention to detail and color will be sure to get noticed.
Welcome to Our Home
First impressions are everything, so be sure your front walkway and door say, "Welcome to our home." This can be done by purchasing a welcome mat, adding cozy lighting and some colorful flowers to the front porch. These are all minimal expenses that make all the difference!
We believe you can make your home shine, without breaking the bank. Contact us today if you're looking for a place to grow your money.