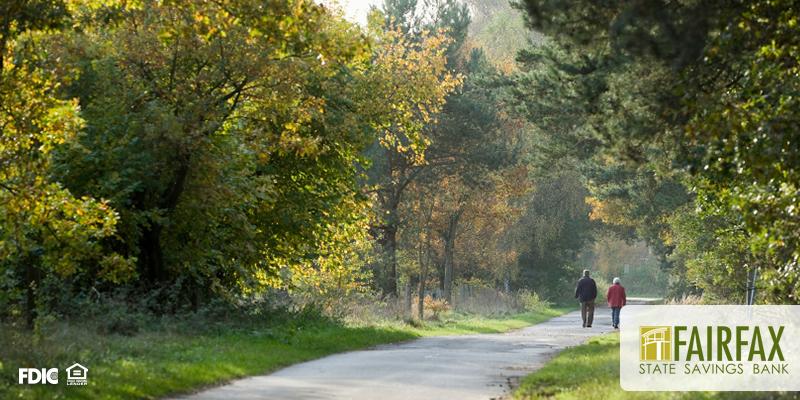 Retirement may seem an eternity away; however, even if it's a dream 20 years down the road, saving for retirement shouldn't wait until the goal is in sight. Rule of thumb says you'll need $1,000,000 in savings to retire comfortably. Our experts at Fairfax State Savings Bank recommend taking the following steps to save with the future in mind:
Determine when you want your $1 million. The typical age of retirement is 65, but you may be shooting for a few years earlier or later. Whatever the age affects how much you need to save each month, so calculate years left to save based on current age and breakdown monthly savings requirements thereafter.
Start saving ASAP. Compound interest rewards those that begin saving earlier rather than later. A $10,000 investment at age 25 could yield tens of thousands of dollars more by 65 than if that same $10,000 were invested at 35.
Spend less than you save. It's basic math. You'll have money left over only if income exceeds expenses. Buying a home within your range, purchasing cars secondhand, and paying for vacations out of savings and not on credit protects you from dipping into debt.
Opt for automatic. Research your employer's 401k or retirement-based plans and determine what percent you'd like funneled from your paycheck and into your savings. If your employer matches contributions up to a limit, work to reach their maximum to maximize your savings.
Save beyond your 401k. Expect the unexpected. A flooded basement or dying car engine can send you spiraling out of your financial plan if you haven't budgeted for rainy days. Set up a $1,000 emergency fund as soon as possible, and work to expand it to anywhere from 6-12 months of income to protect you from larger surprises, like medical issues or unemployment.
The road to a million takes time and discipline, but it's exceedingly possible. For further savings strategies and investment options, make an appointment today to meet with one of our trained financial advisors.