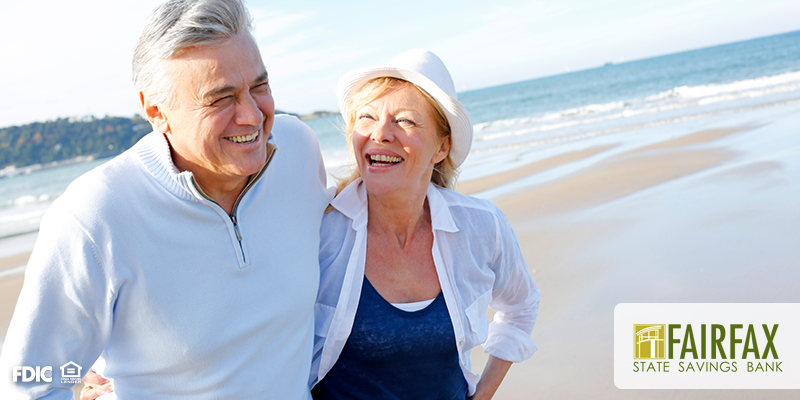 Retirement, 401(k), stocks and bonds, the subject matter of saving for the long term isn't often as appealing as saving for the short term. Perhaps that's why nearly three-quarters of Americans are underestimating how much they'll need for retirement. The United States is on the brink, if not already in, a retirement crisis. However, at Fairfax State Savings Bank we believe retirement saving can still be easily accomplished, there are just a few steps to get started:
The first thing you'll need to do is determine when and how you want to retire. There are an endless variety of retirement lifestyles, each of which entail a different budget and distribution structures. Some popular options include traveling by RV, retiring in a new location, downsizing your home in the same area, pursuing a new business or passion, and of course maintaining your current lifestyle without the need for work. By choosing your lifestyle goal we can begin to structure your savings plan around what you hope to achieve.
Once you know what you want, start saving ASAP. As the old adage goes, "Slow and steady wins the race." This is phrase is the epitome of retirement. If you save less, but start earlier you will consistently save more than if you deposited higher amounts later in life. We recommend utilizing any 401(k) or retirement savings plans your employer offers. If you are self-employed or don't have access to retirement benefits, an IRA is a great self-funded option to help you save and take advantage of valuable tax incentives.
Create a goal for how much you need to save. Financial Mentor offers a great calculators to help you plan your path to retirement. They can help you determine your strategy to become a millionaire, or show you how much you may need beyond $1,000,000. Saving more than one million could be more pertinent than you think. Today's research indicates that millennials may need to save more than their baby boomer or gen x counterparts.
Add any available surplus funds to your retirement savings. Simple adjustments like changing grocery stores, carpooling, and bringing your lunch to work can save more than you think! If you are able to find some additional ways to save, put those funds to work by contributing to your retirement accounts.
Diversify your retirement savings. Instead of putting all your funds in company stock, corporate shares, or your 401(k), we suggest diversifying your savings options to ensure your risk isn't higher than you need. Speaking with a professional adviser could help you determine what type of risk you're comfortable with, and how you would like to your contributions to grow over time.
By continuing to save each and every month you can beat the odds and have a fulfilling and successful retirement. The most important thing to do is to start. If you'd like to open a dedicated savings account, IRA, or CD, our dedicated team is here to help. Stop by or drop us a line today to get started today.