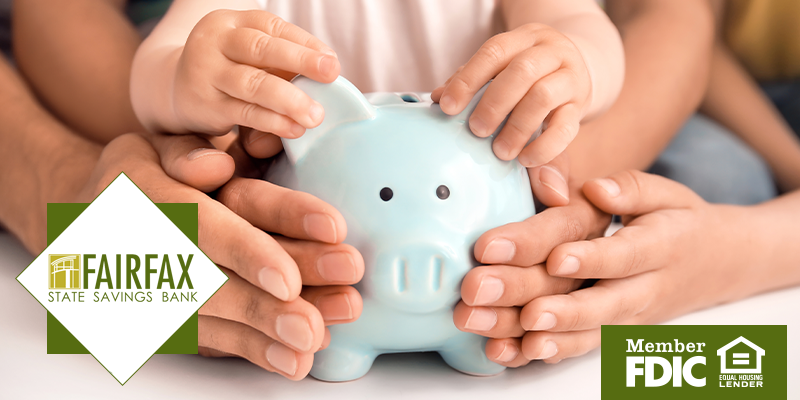 Opening a bank account for your child is an important step in teaching them about money management and setting them up for financial success in the future. But when is the right time to open a bank account for your child, and what type of account is best? Let's dive in!
When Is the Right Time to Open a Bank Account for My Child?
The timing for when to open a bank account for your child will depend on their age, maturity level, and your goals for teaching them about managing money. Generally speaking, it can be a good idea to open a bank account for your child when they are old enough to understand the concept of saving and spending money.
It's best to consult with a financial advisor and plan together with your child on how they will use their account responsibly and make it a valuable learning experience for them. At Fairfax State Savings Bank, we can help with that! Our team of financial advisors can help guide your family in choosing the right account to benefit your child in the long term.
Which Bank Accounts Should My Child Have for Financial Success?
There are several types of bank accounts that can help a child develop good financial habits and set them up for financial success in the future. These include:
1. Savings account: This type of account allows a child to deposit money and earn interest, helping them learn the value of saving.
2. Checking account: A checking account can teach a child how to manage their money by keeping track of their deposits and withdrawals.
3. Student account: Some banks offer special accounts for students with lower fees and minimum balances, which can be a good option for teenagers.
4. Joint account: A joint account with a parent or guardian can be a good way for a child to learn about managing money with others and building a credit history.
5. 529 college savings account: This savings plan is a type of investment account that is specifically designed to save for a child's higher education expenses. 529 plans are sponsored by states, state agencies, or educational institutions. Money can grow tax-free and be withdrawn to pay for qualified educational expenses.
6. Roth IRA for Kids: A Roth IRA for Kids has all the benefits of a regular Roth IRA but is geared toward children under the age of 18. The custodian of the account—parents or grandparents—maintains control of it, including decisions about contributions, investments and distributions. The funds within the account must be used for the benefit of the minor. When they reach a certain age, usually 18 or 21, the assets must be transferred to a new account in their name.
7. Trust fund: A trust fund account works similarly to a bank account in that funds can be deposited, and payments made from it. However, these funds are not held or owned by an individual or business. Instead, you establish a legal entity that holds your assets until an appointed time, such as when your child turns 18.
8. Brokerage account: With a brokerage account, you can gift your child with an investment! These accounts enable you to invest in stocks, bonds, mutual funds and more. Funds in these accounts can be used to pay for expenses such as music lessons, clothing, sports team fees and more.
It's important to keep in mind that each child has different needs and levels of maturity, so the type of account and level of responsibility will vary accordingly. It's best to consult with a financial advisor before opening a bank account for a child. We can help—call us today or submit a contact form online to schedule an appointment with one of our friendly and professional advisors. Let's work together to build a better future for your child.