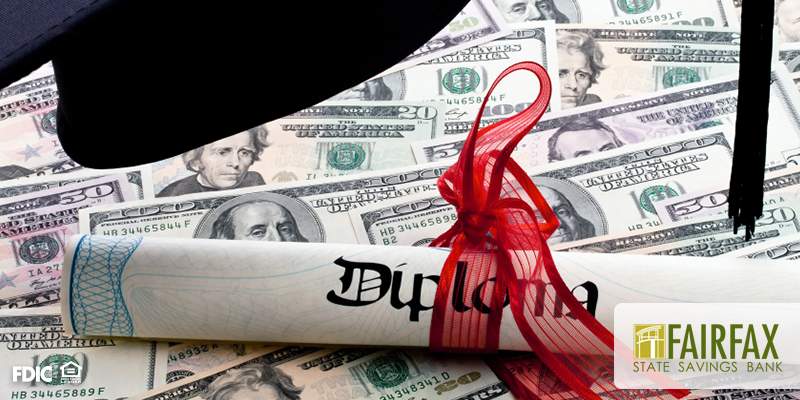 Obtaining your secondary education can be a landmark goal on your journey to success. By opening up opportunities, and enhancing your capabilities, the study of a discipline gives you the skills you need to conquer your future ambitions. More often than not, student loans offer a helpful supplement when financing this experience. However, many students are able to obtain these financial aids without having to budget or offer a credit history, causing a higher likelihood of default among student borrowers. To help avoid this, Fairfax State Savings Bank suggests answering the following questions before choosing how to pay for your collegiate participation:
What are you starting with?
The first question you should ask yourself is, 'What money do I have to begin my education?' If you have applied for and received scholarships, those should first count towards tuition and books. Additionally, if you have any financial support from relatives, these funds may be allocated best at the base of your budget during your college planning. By totaling the sum of these two amounts, you can determine the support outside your own savings that will be contributed towards your future learning efforts. Knowing whether or not this amount will be offered on a recurring basis can help you then decide what financial steps you need to take in order to save, earn, and/or borrow the remaining funds necessary.
How much and how often can you contribute?
After learning your total amount of support, it is now possible to create a plan of action to facilitate the rest. Depending on your length and type of education, your costs may vary drastically. When selecting both a field and institution of study, the factor of price is an important one to consider. By thinking of your education as an investment, you can ensure that you choose both a rewarding and promising career path to help you repay any debt you do incur during this time. To help decrease overall expenditures, many students take on a part-time job to supplement the costs of their education, along with the associated room and board. Utilizing this choice can decrease the overall amount of your anticipated loan, and help you avoid the additional expense of interest. Should the cost your education still be more than you can currently cover, the option of a student loan may be a viable solution.
What is student debt?
While obtaining an education has potential and opportunities, the accompanying debt can often be overbearing. In order to minimize this, we recommend borrowing only the minimum amount needed. By opting for a lesser sum, you are able to save your future-self hundreds or thousands of dollars on interest alone. For example, the average debt for a United States student is approximately $37,172. With borrowers averaging ten years for repayment, the potential cost of interest alone can add up to over $9,000.
Choosing the best option to finance your education can affect your life well past college. To help you make the most informed decisions, our team at Fairfax State Savings Bank offers sound financial advice and information. To learn more, stop by one of our locations, we'd love to get to know you and your education aspirations.