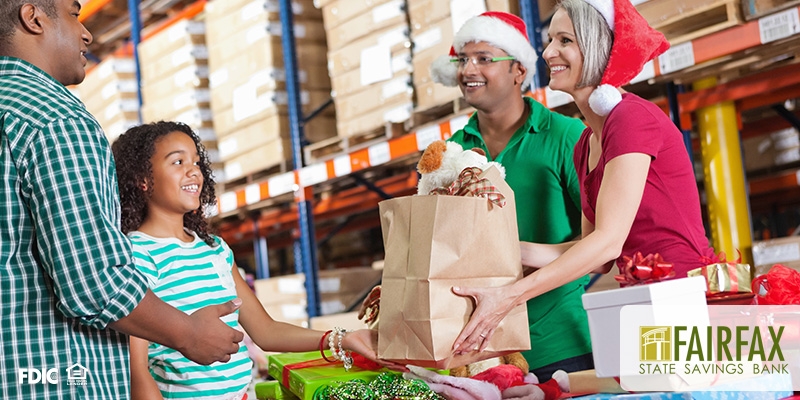 The holiday season is all about giving. Whether it's through time, labor, or funds, philanthropy is the spirit of the season. This December, help your little one's understand the power of giving with these four lessons, courtesy of Fairfax State Savings Bank:
Help Yourself by Helping Others
Did you know that every time you participate in "gift-giving behaviors," your body releases positive chemicals in the brain? Referred to as a "Helper's high," these chemicals are released into the body while participating perceived good deeds. The release of dopamine, serotonin, and oxytocin is the body's way of physically boosting your spirits during these activities. While helping others has great benefits for the recipients, one of the most impactful things you can do to boost your mood, is to lend a hand!
The Gift of Time is the Most Precious
Throughout the winter months, try offering a gift more precious than presents, by helping a neighbor in need. Whether it's shoveling the walkway or blowing snow from the driveway, these gestures can make a world of difference. If you know of a family struggling during the holidays, offer to bring home cooked meals to help them along the way. Sometimes we overlook the kindness in a small act, so this season, see what you can do instead of what you can give.
Financial Education is Key
To better understand how much to give, you first need to understand how much you have. If you give your child a weekly allowance, create three jars for them to store it in. One marked save, one marked spend, the last marked give. (You can practice this same exercise using envelopes for your monthly budget.) Each "payday," you and your child can deposit the amount you would like in each. Be sure to let your little one know that the save and give categories allow them to continually accumulate funds for bigger items, but the spend category is specifically to use that week. At the end of a month see where you both stand. If there are funds for the save and give jars, help them choose a great organization or purchase to make it worthwhile.
Sharing the love of giving with your child is the perfect way to teach them about many life lessons, including finances! For everything from balancing a budget, to automating savings, there are many financial lessons that can prepare you to give more. If you'd like to grow your giving potential, stop in today and we'll help you make it happen!