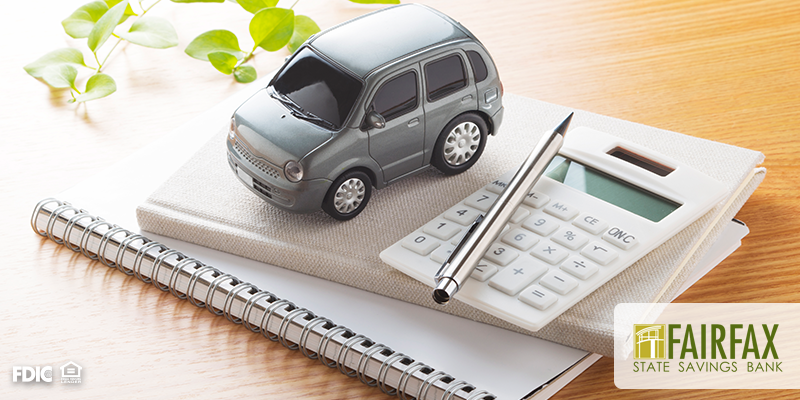 Purchasing a new vehicle is an exciting milestone in your personal finances. Filled with countless decisions, finding the perfect price can at times feel like an uphill battle. Luckily Fairfax State Savings Bank is here to help you find the ideal drive while staying between the lines of your budget.
If you're looking for a used vehicle:
There are four things to take into account when purchasing a car or truck that has been previously owned. In most instances, you can request a full history report on the car to help answer the following prompts.
Miles v. Year

While purchasing a car that is over four old can be economical, it can often time come with high mileage as well. For the best return on investment, we recommend finding a car with a comfortable number of miles that is still equipped with the functionalities and safety features you desire from newer models.

History of Repairs

A full report of a used vehicle is a must! This important document will cover the car's history and allow you to identify potential warning signs. If reported collisions appear frequently it may result in additional monthly maintenance fees. However, if the previous owner had a consistent service history, your vehicle should last you well into the future.

Budget Friendly

Used cars will typically have a lower price point than many new makes and models. This can be a valuable money-saver, however, it's still paramount to find a cost-effective vehicle to fit your needs. We suggest working with dealers to find an option that meets your basic criteria and comes in under budget. By having some cushion with the cost, you can ensure there are funds still available, in the event of possible maintenance or repairs.
If you're looking for a new vehicle:
There's nothing like that new car smell. Purchasing a vehicle with no prior owners certainly has its benefits. From new industry updates, upgraded entertainment options, and advanced safety options, there are a variety of things to focus on when selecting your new ride. However, we recommend taking the following points into account:
Safety and Technology Features

Things like a rearview camera and four-wheel drive can make a big impact on your personal safety. In addition to the ever-changing technological features, these advancements can help make you and your family feel more secure. We recommend making a list of the vehicle features that are important to you. Be sure to bring it along whenever you browse for potential matches.

Room to Grow

New vehicles have the potential for a long lifespan. When purchasing your next ride, be sure to plan for future milestones along the way. If you plan on growing your family or venturing across the states, keep those goals in mind when choosing the best vehicle for you.

Affordable Payment Options

Many dealers work with trusted local lenders, like Fairfax State Savings Bank to help their customers secure the financing they need for both new and used vehicles. When purchasing a car or truck, remember to select payment options that fit into your monthly budget, while still allowing room for flexible spending.

Whether you're searching for a new pickup or a used hybrid, Fairfax State Savings Bank is excited to help make your car buying dreams a reality. Stop by today to speak with one of our experienced consumer lenders, and see what type of vehicle can fit into your monthly budget.