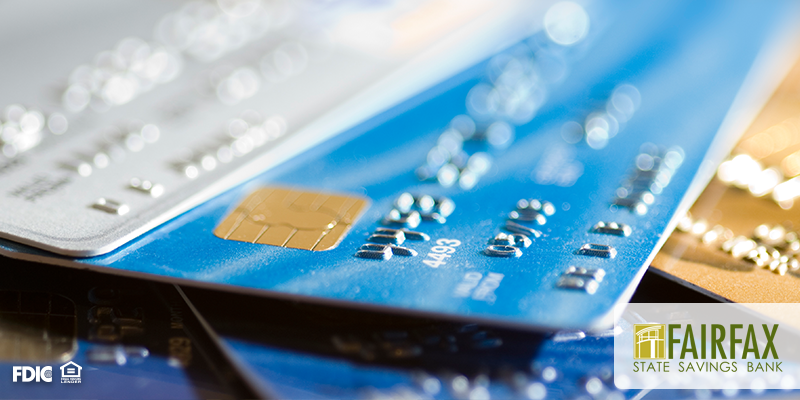 Using a credit card is a great stepping stone to help boost your personal credit history. By proactively managing your ongoing finances, you can showcase to potential lenders that you know how to fulfill your repayment promises. What many people don't know, is that simply having a credit card does not automatically indicate an increase in your credit score. To help you succeed with your credit, Fairfax State Savings Bank has put together our most commonly asked do's and don'ts to using credit cards.
DO: Pay your balance in FULL every month or every two weeks.
DON'T: Keep a balance even if the interest rate is low
While keeping a balance less than 30 percent won't drastically harm your credit score, it's always better to be safe than sorry. We recommend never spending more than you can pay off each and every month. By keeping yourself to this standard you can make certain to never become a victim of expensive credit card debt.
DO: Choose a card that will compliment your lifestyle.
DON'T: Pick your credit card based of mail or TV offers.
There are countless websites and app centered on helping you find the ideal credit card. Instead of signing up for a credit card through the mail, start perusing sites like NerdWallet to discover which card fits not only your spending but your rewards preferences too! Before you start applying, remember to only apply for a credit card if you need one. If you plan on using more than one, wait six months or more before applying for a new line of credit. This will help to keep you credit score on track and assist in preventing any unwanted dips.
DO: Use reward points to save money.
DON'T: Spend more just to get additional points.
While some credit card options certainly do offer some great sign-on rewards, remember that added debt and expenses are never worth the hike in points. The money you manage is yours, and it's real! While the points are truly a great perk, never let them outweigh the tangible money you currently have in your individual accounts. If you allow this to happen you may find yourself with a mountain of debt, equivalent of half the vacation you can no longer afford to take.
DO: Have more than one card when you can pay them all off on time.
DON'T: Cancel a credit card without researching its history.
There are certain cards that boast the best rewards when utilized for specific industries, and others that can add extra perks for those all-encompassing purchases. To make the most of these various benefits, we recommend using multiple credit cards for your household's purchases, only once you've maintained a zero balance on one for more than six months. If you feel confident in managing multiple credit cards, you'll find great advantages of using the rewards behind the various programs and their associated bonus structures. However, if you close a card, always check and see if that card hold your longest history of a credit line. Should that be the case, you may not want to cancel it, as it could create a slight dip in your credit score.
Did you know Fairfax State Savings Bank offers credit cards too? If you're looking to boost your credit, or want to begin building your history with a local institution, our dedicated staff would love to help you get started. Simply stop by your nearest location, and we'll help find the perfect fit for you and your spending.