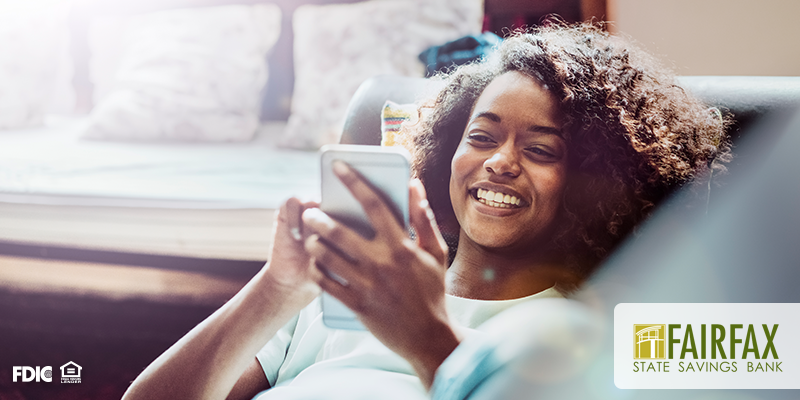 Odds are you're probably reading this blog post on your cell phone, which you found through an app on your smartphone and then used it to get directions to Fairfax State Savings Bank. Seventy-seven percent of Americans now own a smartphone and use it on a daily basis. With so many people accessing, searching and downloading things on their cell phones, are we really using the same caution and protection we would use when it comes to our computers? Odds also are, you're not. With a few tips, you can start better protecting your smartphone from things like data theft, malware and privacy invasion.
Needed Protection: You may be wondering what exactly needs to be protected when it comes to your smart phone. Luckily, they can be broken down into three categories.
1.Device Protection – In case your phone was ever stolen, this kind of protection would wipe all information and data from your phone, which is beneficial if you utilize mobile or online banking.
2. Data Protection – This protection was designed to keep work information from place of employment from being spread to your personal apps.
3. App-Management Security – Having login information, credit card information and other personal information within apps should be protected from falling into the wrong hands. App-management security does just that.
Trusted Apps: Not all apps are created equal. Since it's becoming increasingly easier for third-parties to create apps this means there are more apps out there than there's ever been. One way to help protect yourself is to only download apps from the trusted app store. You should also review existing apps' privacy policies and settings for permissions.
Public Wi-Fi: One thing you should know is public Wi-Fi is generally not secure. Hackers can get in-between you and the Wi-Fi connection point and when you're submitting information on your phone you're actually sending it to the hacker. It's recommended to protect yourself using a VPN, which encrypts your data, essentially scrambling the information.
Jailbreaking Phones: While it may seem like the cool thing to do to format your phone without the factory standards, you're actually setting your phone for several security risks. One of those risks is Malware and loss of personal information.
We hope these tips can better protect you and your smartphone. There are several companies that can protect your mobile devices, including Norton Mobile Security and McAfee Mobile Security. If you have any questions or concerns about you protecting yourself, we encourage you to contact us. Our team would love to assist you.